Treats for the monster inside you!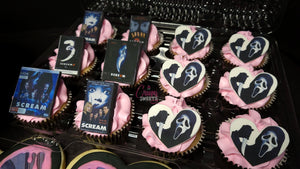 About Us
Creepy Sweets is a home-based business fueled by the inspiration and curiosity of all things Halloween, creepy, bloody, and weird! We bring you treats that are based off of classic horror movies or just gory ideas that pop into our pulsating brains! They truly are treats for the monster inside you!
Creepy Sweets is PAPERLESS! :) Therefore, you won't be receiving a paper packing slip in your order. All orders/receipts are emailed to the information you provide.
Food Allergen Notice
Please be advised that food prepared here may contain or come into contact with wheat, dairy, eggs, soy, nuts, or other allergens. If you have any questions or concerns, please contact us before placing your order.
Shippable Items
Shipping is through USPS for shippable items (cookies, fondant toppers, and merchandise only).